You have counted days to your travel date with Spirit Airlines. Every travel preparation and formality is complete. However, the check-in time is fast approaching. Are you worried about completing your Spirit Airlines check in on time? Do you have concerns related to the check-in process?
Here, you will find solutions to your concerns with Spirit check-in methods and related information. Whether you prefer offline check-in or online check-in is something that you prefer, the airline offers you an approach that ebay suits your requirements.
Now, go through the account that follows for a better insight into check-in with Spirit.
How to Check-in a Spirit Airlines Flight?
There are various Spirit Airlines check-in methods that enable you to check in to your flight at your ease. Here are the options through which you can choose to check-in -
Website
Mobile app
Airport check-in kiosk
Airport counter
Now, let's see one by one, how each of these methods help you.
Online Check-in Methods of Spirit Airlines
With Spirit Airlines, you can opt for an online check in approach to complete the process anywhere. Moreover, it saves your time Here are two online check-in methods with Spirit -
Through the Official Website
Visit the website of Spirit Airlines.
Click the Check-in button on the bar as shown below.
You will be redirected to a new page.
Enter your details required as shown below -

Last name
Confirmation code
Hit the Check-in button as shown above.
Please note
Print your boarding pass at home for free.
Get extra services like seat assignments and baggage when online check-in starts between 24 hours to 1 hour before your flight's scheduled departure.
Via Mobile App
To complete the check in process through your mobile device, install the Spirit Airlines app on it.
Hit the check-in button.
Log in to your account.
Enter the travel details required.
Follow the prompts.
Complete the check-in.
Save your boarding pass to your smart device.
The app is available on App Store and Google Play.
Please note
Active Military pricing is not supported on the app.
You can add it on the web or at the kiosk.
Offline Check-in Methods of Spirit Airlines
You can also complete Spirit Airlines check in through offline methods as mentioned below:
Kiosk Check-in
If you can't check in online, kiosks of Spirit Airlines are available at the airport. These self-service options allow you to check-in easily. To help you, customer service executives are available there.
Airport Check-in
Keep your travel documents and tickets handy to check in at the airport to a Spirit Airlines flight. Also, check-in your baggage there. However, when checking-in at the airport, you must make sure that your -
Baggage is tagged correctly
Boarding pass is clearly and correctly printed
Security check is complete
Reach the boarding gates at least -

15 minutes before the domestic flight's departure
30 minutes before the international flight's departure
Please note
The cost of printing each Spirit Airlines boarding pass at -
The airport counter - $25
A kiosk - $2
How to Get a Boarding Pass on My Email?
You can easily get your boarding pass on your email address after Spirit Airlines web check in completion. Here's how -
When checking-in online, choose the option of Email Boarding Pass to.

Enter your email address in the field there.
On your mobile device, confirm that you have received your boarding pass on the given email address. Check if it has all the information required. Also check that the following correctly shown on the boarding pass (as in the image below) -



Name
Flight information
Barcode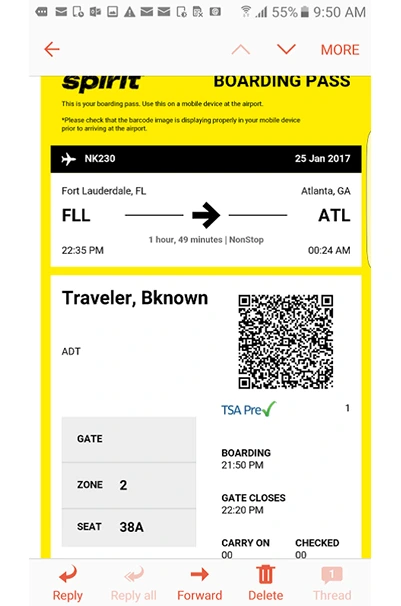 At the airport, show your email boarding pass to the TSA agent and Spirit Agent.
How Much is the Fee for Spirit Airlines Check-in?
There is no Spirit Airlines check in fee when you do it online. Your online check-in window opens 24 hours before your scheduled departure. It closes an hour before the departure of your flight.
At this time, you can buy seats of your choice. Buying last minute bags online is comparatively cheaper than at the airport. If you pay for bags 24 hours before your flight takes off, Spirit charges you with an online check-in rate. This makes your purchase even more cost-effective.
Who is Not Eligible for Online Check-in with Spirit?
Some travelers might not be allowed to go for an online check in to a Spirit flight in certain cases. Let's take a look when Spirit does not allow you to check-in online. It happens when you are -
An Unaccompanied Minor
Traveling with an infant in your lap
Flying with pets
Traveling to or from certain international destinations
Flying with Military ID, not a passport
A non-U.S. citizens departing from international locations
On a group trip of 10 or more travelers
Traveling on an extra seat or special items purchased
Unable to complete your check-in online (Here, check-in at ticket counter and your fee is waived)
Please note
In any of the cases above, check in at the airport counter.
For any assistance regarding check-in, call Spirit Airlines español - 1-855-728-3555 or +1-856-545-5988. You will get connected to customer service executives who speak fluent Spanish and English.
What are the Timings of Spirit Airlines Check-in?
When you are checking in with Spirit, you must know about the timings for a hassle-free experience. Let's take a quick look at it -
Reach the airport at least -
2 hours before the scheduled departure time for domestic Spirit Airlines flights
3 hours before the scheduled departure time for international Spirit flights
Check-in Types
Timings before departure
Obtained boarding pass & check-in bags at least
Online
24 hours to 60 minutes

45 minutes before a domestic flight departure
60 minutes before an international flight departure (and a U.S.V.I flight)

Self-Service Kiosk
Airport Counter

3 hours to -

45 minutes for domestic U.S. flights
60 minutes for international & U.S.V.I flights
Please note
The Spirit flight check in timings might vary. Contact Spirit Airlines customer service executive for updated timings.
Bottom Line
In a nutshell, you can easily check-in to your Spirit Airlines flight, thanks to its various check-in methods. You can choose from online check-in approaches to offline ways for checking in as per your convenience. And what's more? Online check-in is free and exempts you from paying for the process. So, in addition to saving time, you can also save money with online check in.
However, take note of the timings for different check-in types and the guidelines to follow for each. Moreover, Spirit also facilitates you to get your boarding pass easily for smooth flight boarding. So, start with your Spirit Airlines check in process and fly to your dream destination.
FAQs
Q.1 Does Spirit assign seats at check in?
Yes, Spirit randomly assigns seats at check-in. However, you can select your preferred seat in advance and pay for those.
Q.2 What are the main features of Spirit airlines mobile app?
You can manage your trips in one go with the app. In addition to check-in, the app helps you:
Book tickets
Download mobile boarding pass
Track flights
Select/upgrade seat
Add bags and extras
View or track your Free Spirit mileage balance